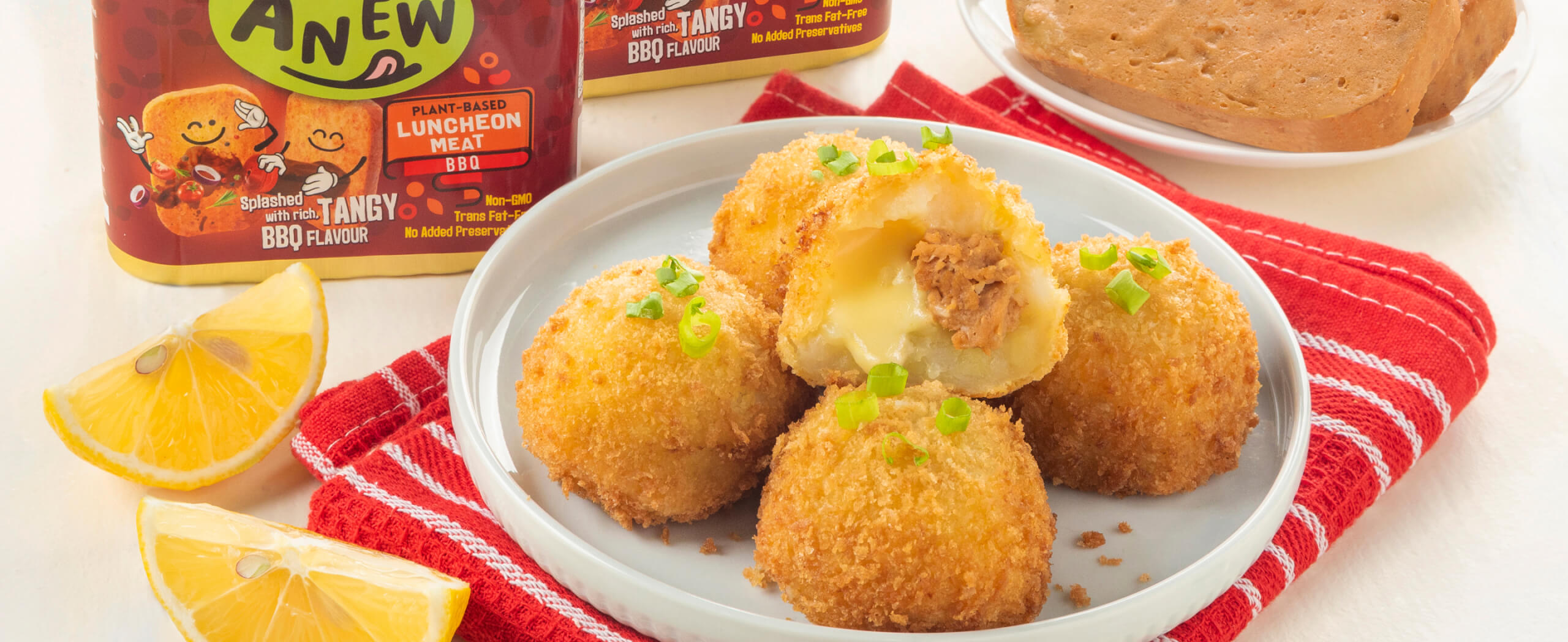 Meat Stuffed Potatoes
Try our ANEW Plant-Based Meat Stuffed Potatoes recipe today!
#AnewRecipes #GoAnew #AnewSG
3 medium sized potatoes, peeled
1/2 can, ANEW Plant-Based Luncheon Meat (BBQ flavour) 340g
Mozzarella cheese
Salt
Pepper
Chicken stock powder
100 grams of bread flour
50 grams of wheat flour
1 egg, beaten
Cut potato into pieces/cubes.
Cut ANEW Plant-Based Luncheon Meat into small cubes.
Cut Mozarella cheese into small cubes.
Add salt, pepper and chicken stock powder to a pot of water.
Add potatoes to boiling water and boil for 10 minutes till soft.
Remove pot from heat and drain away the water.
Mash the boiled potatoes and set aside to slightly cool.
Take about 1 tbsp of mash potato onto palm and flatten.
Place 1 cube of ANEW Plant-based luncheon meat and 1 cube of cheese onto palm and cover with 1 tbsp of mash potato.
Shape the mash potato into a ball, encasing the meat and cheese cubes.
Coat the potato ball entirely with a layer of flour.
Dip and coat the potato ball with egg wash.
Coat the potato ball with another layer of breadcrumbs/panko.
Store in the refrigerator for 15 minutes. [optional]
Prepare hot cooking oil and fry until golden brown.
Remove from oil and serve with chili sauce or tomato sauce.